Inter, Icardi: 'We will play to win in Barca; Spurs…'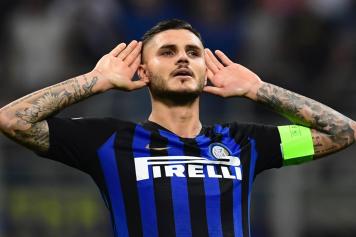 18 October at 15:30
Inter Milan face off against fierce city rivals AC Milan on Sunday as both sides look to pick up three points to prove they have what it takes to sustain a Scudetto challenge against a Juventus who seem to be running away with it already. Speaking to
Sky Sport
, via CalcioMercato.com, Inter captain Mauro Icardi gave his thoughts on the matches coming up for Inter, including clashes with Barcelona, Milan, Lazio and Tottenham Hotspur:
"To win against Milan and Barcelona? We play for this, we want to win for work but also to give great satisfaction to the fans.
"[The derby] is the race that most expects you in the city, then three points if you win, but the important thing is to play a great game and give continuity to what we've done, if we win, then we'll work better.
"Yes, [Milan, Lazio, Barca and Spurs] are difficult races but we can play it and make great performances. I can not say if it will tell us where we will be going, but if we win we can go on in the best way."
"I think game after game, now there is the derby and I'm calm for this race, then the others will come in. We made a great start in the Champions League, these two wins give us a good lead for the race on Wednesday. As did Roma last year or small clubs in Spain, we must get in the best possible conditions and do well as a team.
"It would be a dream to be able to repeat what they did in 2010, but I think it's not in our heads, we have to do well and the prize comes in. That year was the triple, but I do not think the players were saying wanting to win the three cups: they did well and received the prize they deserved."
For more news, views and features,
visit our homepage.