Inter: Milan is taken, onwards to Naples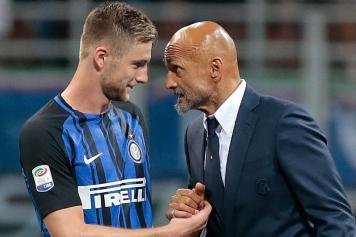 17 October at 11:40
As a spectacle it couldn't have been any more perfect for the Nerazzurri. With the Stadio Giuseppe Meazza full to the rafters, a dramatic game was played out under the lights and it was disgustingly entertaining. The Mauro Icardi hat-trick, completed a perfect night for the black and blue half of Milan and set Inter up as an early Serie A contender. Amidst the celebrations however, there were clear messages from the team and the staff, winning the Derby was important but winning in Naples is the real test. It is one thing to win the city, it is another thing to contest for the Scudetto.
Ivan Perisic eluded to it immediately after the game in his post-match interview. He claimed that his team need to play like that in every game and not just the Derby. There has been a sturdy defiance in this team so far this term, as they have scrapped results whilst finding their feet, in the three big games (Fiorentina, Roma and Milan) they have found a way to win and this now puts them in good stead moving forward. They are certainly not as beautiful on the eye and Napoli, or as ruthless and Juventus normally are but they have a collective responsibility that they are embracing whole heartedly.
Massimo Moratti, watched the Derby as a fan and he struggled. Feeling the anguish, he observantly noticed that Napoli wouldn't be easy to catch. Maurizio Sarri and his team after all, have not dropped a point and the free-flowing style has made Juventus even look over their shoulders, especially after they lost to Lazio this weekend. Inter's position has been earned however and as the former President noted, this has been built on a strong mentality and team ethic.
The Derby itself was a victory based on two main strengths Inter have relied on whole heartedly this term. One is the aforementioned team spirit, that has arguably been absent from the club ever since 2010. Under Roberto Mancini it came back for a while but Luciano Spalletti has seemingly hard to beat and will also not give in. The second are the constant goals from Icardi. His hat-trick in the Derby catapulted him even more so onto the World stage asking the question, "Is there a more lethal striker in the 18-yard box in European football?".
For Inter to truly challenge they must do something that Napoli managed to do post Gonzalo Higuain and share the responsibility of the goals. When Higuain left for Juventus there was a concern that they would not have a striker who could fire as frequently as their no hated rival. Arkadiusz Milik looked like he could do part of the job but injuries then saw Sarri ask the question of the rest if his team. With a utilitarian flag being passed between them Jose Callejon, Marek Hamsik, Lorenzo Insigne and of course the incredible Dries Mertens stood up and too responsibility, the goals followed.
Inter's improvement under Spalletti has been vast and notable. They have conceded only five goals, the same as Napoli and Roma, the best in the division. They have scored 17 in this time frame and are only behind Napoli, Lazio and Juventus in the goals stake. Whilst Icardi has nine goals (this comes with an incredible 85% success rate) he needs his team mates to help him. At this point only Perisic has stepped up and netted four goals. The lack of cover for Icardi is somewhat of a worry however and is just another reason for the Nerazzurri to force this issue.
The Derby Della Madonnina has been won and Inter have laid down a statement of intent. They travel to the San Paolo in what will be an epic clash and it is here where they will be tested. They are not flawless, who is, they are a work in progress but Spalletti is improving them. The season looks like it will be a vast improvement despite the result this coming weekend but there is excitement in the city as it could be so much more. Perisic and Moratti were right, the Milan Derby was the start, they need to perform at this level week in and week out, the exciting thing is, if they keep going in this direction they may just be able to do this.
@RichHall80
Richard Hall