Inter - Napoli 2-0: Videos, Goals and Commentary!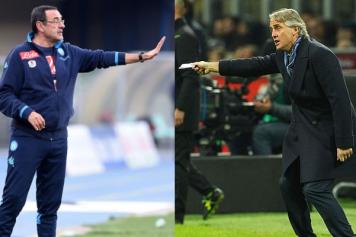 16 April at 20:23
Inter welcome Napoli to the San Siro hoping to tighten their grip on fourth place. Having overtaken Fiorentina last week, the Nerazzurri will even hope to reduce the gap from third-placed Roma, who are six points ahead of them and hold the last place synonymous with Champions League qualification.
There is some good news for the Beneamata: she faces an opponent she's already beaten away in Coppa Italia action (that of the infamous
"fa***t" incident
) and lost very narrowly to in Serie A, going down 2-1 despite hitting the woodwork twice in the dying seconds.
LIVE
HIGHLIGHTS
46 minutes: And they're off. Inter lead Napoli 2-0, and efficiency has been the name of the game.
5 - Of the 5 Inter's touches in the opp. box in the 1st half 3 were shots on target (2 goals). Clinical #InterNapoli pic.twitter.com/OXee7KS8Un

— OptaPaolo (@OptaPaolo) 16 aprile 2016
And another
Icardi's first half:

100% - Completed all his passes
2 - created chances
1 goal
1 assist

— F.C. InterData (@Fcinterdata) 16 aprile 2016

44 minutes: TWO NIL!
What a goal, what a move. Inter may not have done much, but what they've created has been exquisite.
Goallll!!!! #Icardi chips it to #Brozovic, who chips it into the box. That's 2 chipped goals! 2-0 | 43' #InterNapoli pic.twitter.com/ZB0jBidV1e

— Lega Serie A (@SerieAchannel) 16 aprile 2016
40 minutes:
DANG, two HUGE chances for Inter. First, a cross from Icardi from the right finds Jovetic, who smashes his effort at Reina. Kondogbia then goes crazy in the middle, creates a gap with a one-two, resulting bouncing cross finds Perisic's diving header, narrowly out!
30 minutes:
WOW!
#Allan with a thunderous strike from outside the box. #Handanovic with a big save! 1-0 | 30' #InterNapoli pic.twitter.com/H8aJpD8tUY

— Lega Serie A (@SerieAchannel) 16 aprile 2016
​
25 minutes:
Napoli are finding great balls to their atacking midfielders. Given a bit of space, Hamsik unleashes a fierce strike from outside the box, forcing Handanovic into a difficult pary.
15 minutes: Napoli are piling on the pressure without creating big chances, Nagatomo is booked for handling the ball, this tweet sums his general technique perfectly:
Nk - Nagatomo la tocca in tutti i modi, mano compresa. Forse è involontario, forse no, ma si prende il giallo

— Bauscia Cafè (@BausciaCafe) 16 aprile 2016
"He touches it in every way, maybe it was voluntary, maybe not!"

9 minutes:
Confirmaton that Icardi was indeed slightly offside.
Offside. pic.twitter.com/wVaDUnmhTt

— Tarek Khatib (@ADP1113) 16 aprile 2016
4 minutes:
And Inter are ahead! A great chip into the box, Icardi brings it down beautifully before lobbing Reina. His right foot was, however, slightly offside. He was (almost) kept onside by Elseid Hysaj.
Goooooallllll!!!! #Icardi!!!!!!! Goal in his 100th match. Goal for the captain. 1-0 | 4' #InterNapoli pic.twitter.com/K7IjilxrQD

— Lega Serie A (@SerieAchannel) 16 aprile 2016
A
BRILLIANT sarcastic response, basically saying that Maxi Lopez's kids are celebrating Icardi's opener. Yup!
Ptdr les enfants de maxi lopez qui sautent de joie

— D2i (@MadridD2i) 16 aprile 2016
1932:
Remember the home leg? That was something special.
Here are highlights of Napoli's 2-1 win, with Inter smashing the woodwork TWICE in the dying moments.
1930:
Good evening and welcome to our live coverage of what will surely be a cracking tie!
Follow us live both here and on
our Twitter account!
LIVE COMMENTARY