Inter-Sampdoria: tops and flops of the first half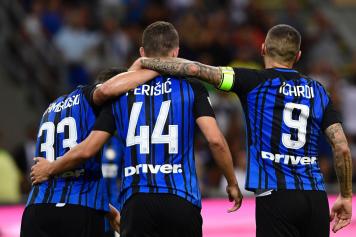 24 October at 21:45
Inter are currently playing against Sampdoria as the half-time whistle just recently occured. The nerazzurri are currently winning 2-0 thanks to goals from ex-Sampdoria defender Milan Skriniar and ex-Sampdoria forward Mauro Icardi.
Here are the top and flops of the first half:
TOPS:
Milan Skriniar:
Great half by the young defender as he seemed sure at the back and even scored Inter's first goal of the game against his former team.
Mauro Icardi:
Another game, another goal. Icardi has been dominant so far this season as Spalletti's Inter need him at his best.
Ivan Perisic:
Candreva and D'Ambrosio also had very strong showings but Perisic was everywhere against Sampdoria as he nearly scored an amazing goal (which hit off the post). This was a great first half by all of Inter.
FLOPS:
Fabio Quagliarella
: Every Sampdoria player had a half to forget but one could've expected more from veteran striker Fabio Quagliarella who was non-existant.
Matias Silvestre and Gian Marco Ferrari:
Both center-backs struggled to contain Inter's attacks as they had a very bad half. Inter scored two goals and hit two posts as Sampdoria seemed lost on the pitch...
Jean-Luca Mascaro (@CalcioNews89)