Inter, Thohir 'not thinking of buying an English club'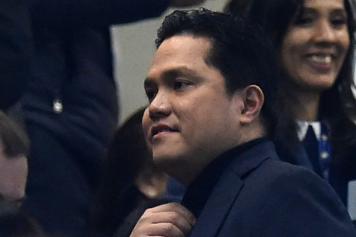 24 April at 15:40
Inter president Erick Thohir talked to
Mediaset Premium
after an intense week-end of meetings with China group Suning which is interested in buying a minority stake of the club, whilst the Indonesian business man was rumoured to be interested acquiring Championship club Fulham.
"I am only focused on Italy,
Inter and Serie A
. I am not thinking of buying any English club. I don't k know why people keep saying that I want to leave. We've been working very hard and I want to thank our fans and Massimo Morrati for their support."
"We've been building the management and the sporting sector this season. I don't think the press want to create controversies.
Media like to create dramas, but there are no dramas here.
We are here and we are thinking about nothing else."
"We are trying to build a
new stadium since the very first day we came here
. I am happy with Inter's fans attendance this season. It means fans like what we are doing and are supporting us."
"Mancini is right: managers, players and owners can change, but Inter will always be there, but I don't want to say that we are going to leave."
Lorenzo Bettoni @lorebetto