Inter vs Juventus controversy: a recap of what has been said over the past few days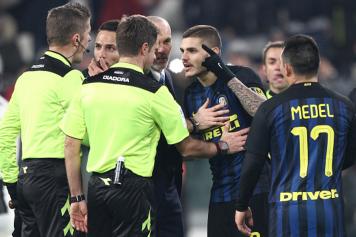 09 February at 23:02
After the Juventus vs Inter game (which Juve won 1-0 thanks to a Cuadrado goal), there has been a lot of talk about the outcome of this game by both clubs and the media. Here is a recap of what has been said so far :
PIOLI AGAINST CESARI - Inter coach Stefano Pioli had a discussion on live TV at the end of the game with ex-referee Graziano Cesari, here is what he had to say on the matter:
"I was mad since there were a few clear cut fouls that weren't given to us. We created these situations but in the end, the referees did not award us the clear fouls. This would've changed the game in our advantage. We should've received two penalty kicks: the first one was for a Chiellini foul on Icardi and the second one was for the Mandzukic foul. It was clear and these situations would've changed the game. Cesari, I don't know if you are better now on TV or if you were better as a referee...".
MORATTI ON RIZZOLI -
"Watching the game I also got mad but these things happen in football. Rizzoli really penalized Inter in that game...".
ICARDI AND PERISIC SUSPENDED - Icardi and Perisic both received a two game ban each. In both cases, it was for words and gestures that were done against the referee. Inter have challenged both suspensions.
MAROTTA'S LESSON - During the Crotone-Juve game (mid-week), Marotta spoke about the tension between both clubs, here is what he had to say:
"I am embarrassed. It was such a nice game but there has now been way too much talk about this game. When you lose a game, you can't always blame the referee which is a big problem in Italy .... ".

ELKANN'S ATTACK - "It is unbelievable that Inter still haven't learnt how to lose, they should be used to it by now.... . Juve deserved to win and were better, that's all there is to it. Fairplay is key and I don't think Inter know what this means....".
INTER'S RESPONSE - Here is Inter's official response :
" In response to what has been said in the media, we don't understand why Juventus FC keep attacking Inter when we are not talking about them. The fact that there is so much attention around Inter confirms that we are a huge club. We did not agree with some refereeing decisions in what was a very important game for us and for the Serie A. We now look forward knowing that we played a great game in Turin. Every club has it's own history and we are very proud of ours".
Jean-Luca Mascaro (@CalcioNews89)