Inter will watch 'New Solskjaer' every week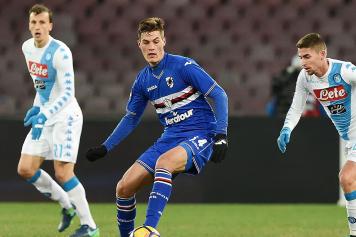 16 February at 14:40
Inter are very interested in Sampdoria sensation Patrik Schick.
The latest reports (via CM's Italian page) have Inter communicating to Sampdoria a week after they met with president Massimo Ferrero's right-hand man (Antonio Romei) and Schick's entourage last week.
The Nerazzurri aren't making an offer yet, they're just letting the Doria know they're very interested in him, and will now have him watched every week.
The Beneamata is very interested, though Sampdoria want to keep their man for another season. Inter will be warned if another club takes an interested in the Czech 21-year-old, who has scored five times in Serie A this season.
Schick has emerged as a bit of a cult hero in Genoa, where he's gradually earning starting time after scoring all his goals in the second half, and four of them as a substitute.
Schick, 21, was involved in Sampdoria's latest comeback, the Genoese side mounting an incredible three-goal special in the last ten minutes to beat Bologna 3-1.