Ireland team-mate brings up Roy Keane's epic rant at Ireland boss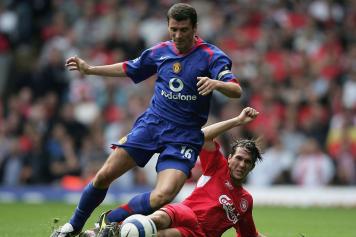 16 October at 20:06
Roy Keane left the Irish dressing room "shocked" after his famous 2002 rant at Coach Mick McCarthy, according to an account from goalkeeper Shay Given. Having qualified to that summer's World Cup, the Boys in Green were in Saipan, preparing for the tournament.
The Manchester United legend went off on one at McCarthy, accusing his former team-mate (now Coach) of not being up to the task. Keane had leaked his discontent to the press, provoking a confrontation with the Coach.
When McCarthy asked Keane about his comments, he got a brutal answer.
Here is Given's account, drawn for his autobiography, which is out now.
"Why the f*** are you asking me a question? Who the f*** are you? You were a s**t player and you're a worse manager. You're a w***** as a man, you're a w***** as a manager and you shouldn't be managing my country. F*** you, and you can f***ing stick your World Cup."

​Mick edges in a word here and there, asking why Roy had not played in the second play-off leg with Iran, and that makes it worse.

He implies that Roy was fit to play and he has let his country down.

For about eight or nine minutes Roy keeps it up, slating every last thing he doesn't like about Mick, the Ireland set-up, our preparations for the tournament, the delay in the delivery of our training gear, the state of the practice pitch, our professionalism as a squad — everything he can think of.

By the end, he's not even raging any more. It's just a total destruction of Mick, personally and professionally.

Finally, after 10 minutes – or several lifetimes, depending on how you feel about it – Roy sits down.

"Well," Mick says, still as calm as anything. "I don't know what happens now. Because either you go or I go. And I'm going nowhere."

Roy gets up again, takes one look at us all and goes, "Good luck lads, all the best" and walks out.

We sit around, staring at the tablecloth, staring at the ceiling, staring at our flip-flops. Nobody wants to say a word, nobody can say a word.

I've never felt collective shock like it. Twenty five blokes, mute, stunned, tongues cut out, heads scrambled, minds blown.
Ironically, Ireland ended up reaching the second round, managing to draw against eventual finalists Germany and forcing Spain to go to penalties.