Is Hamsik's career at Napoli ending?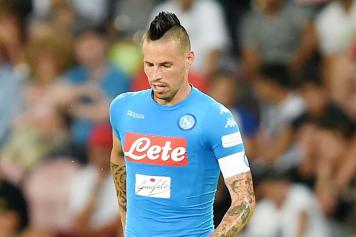 21 September at 12:15
It looks like Marek Hamsik is destined for a secondary role at Napoli.
The Gazzetta dello Sport reveal that the Slovakian international and club legend has contributed less and less over the last two seasons.
The Pink paper argues that Carlo Ancelotti - who insisted on keeping Marekiaro and potentially use him as a deep-lying midfielder - is "still trying to understand after five games if Hamsik can be his regista."
"In the games in which he has played there, Hamsik hasn't excited anyone, so much so that his Coach has tried Diawara in the role, but with the same results."
The 31-year-old has scored 120 goals in 503 games in all competitions for the Azzurri since joining in 2007 from Brescia.
He netted seven Serie A goals last season with the Partenopei, a reduction from the 15 he managed in 2016-2017.
The Gazzetta claims that this downturn has caused Ancelotti to turn to the 4-4-2, but that "Hamsik is struggling, as he has always looked to penetrate in the last 20 minutes, and he is having difficulty positioning himself in front of the defence."
The game against Red Star Belgrade showed that the young Fabian Ruiz is playing well in front of the defence. Could this be the end of Marekiaro in Naples?