Is Raiola preparing Donnarumma's AC Milan exit?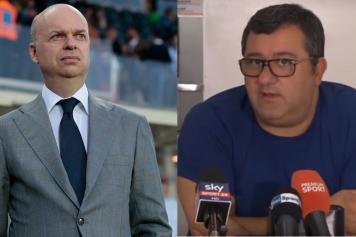 12 September at 17:34
AC Milan directors and Mino Raiola have never been on very good term, that's for sure. The Italian agent did attack Massimiliano Mirabelli earlier this summer when he firstly decided that Gigio Donnarumma would have not signed a new contract with the club.
We all know that Donnarumma eventually changes his mind signing a new € 6-million-a-year deal. Mino Raiola is the agent of both Gigio Donnarumma and Giacomo Bonaventura, two of the
rossoneri's
most brightest stars.
The bad relationship between Raiola and part of AC Milan's control room, however, could mine the future of both stars.
The agent
has recently hit out at AC Milan's project
claiming that he 'does not believe in it'. Raiola has repeated the same concept in two different interviews and that should not sound as a good news for all the AC Milan fans.
Donnarumma, in fact, has a € 75 million release clause which is valid for clubs both inside and outside Serie A. Raiola has already used this method with the likes of Mario Balotelli and Zlatan Ibrahimovic who eventually left the club a few yeas ago.
It is still too early to say that Raiola is preparing Donnarumma's exit but it is pretty safe to say that Raiola will aim to get a discount on the player's release clause if the
rossoneri
fail to qualify for the Champions League.
Giacomo Bonaventura has no release clauses included in his deal but his future is also in doubt after Raiola's recent claims. We are still at the beginning of the season but the recent attacks of Mino Raiola are no good news for AC Milan.
Daniele Longo, translated by Lorenzo Bettoni