Italian Supercup FT: Juventus-Lazio 2-3 |as it happened...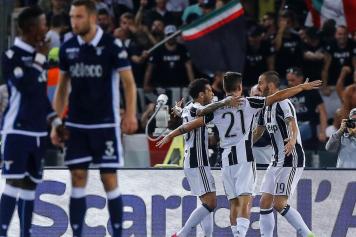 13 August at 20:05
As the Serie A season will soon begin , Juventus are set to take on Lazio in the Italian Supercup. The game will be played at the Stadio Olimpico in Rome as kick-off is set for 20H45 Italy time. A few months ago, Juve faced Lazio in the Coppa Italia final as Allegri's men came away with a 2-0 win thanks to goals from Dani Alves and Leonardo Bonucci (both are now gone). Keita Baldé won't be playing for Lazio as coach Simone Inzaghi decided to not call him up (he is also being followed by Juventus). Davide Massa will be the referee for tonight's game.
THE NUMBERS - Juve come into this game as they are the league title champions and the Coppa Italia champions. This will be their 13th Italian supercup final as they won this cup 7 times. They participated in last year's Italian Supercup as they lost to Milan in Doha. This will be Lazio's 7th Supercup final as they won it 3 times.
Confirmed starting lineups :
Juventus: Buffon; Barzagli, Benatia, Chiellini, Alex Sandro; Khedira, Pjanic; Cuadrado, Dybala, Mandzukic; Higuain

Lazio: Strakosha; Wallace, de Vrij, Radu; Basta, Parolo, Leiva, Luis Alberto, Lulic; Milinkovic, Immobile
Update : Juve 2 vs Lazio 3 (Immobile 2 goals, Dybala 2 goals, Murgia)