Italy passes on Europe's top passer, Brazil to swoop in?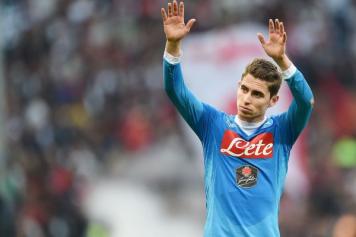 17 October at 14:50
With the loss of Andrea Pirlo to MLS and international obscurity, the Italian national team has failed to replace his skill and effectiveness as a deep playmaker. Now, with their World Cup playoff looming next month, Italy may lose its best chance of replacing the Italian maestro.
Napoli's hot start is attributed to many aspects; the most notable being their explosive front three. However, while he doesn't garner much notoriety on the scoresheet, Brazilian-born Jorginho arguably plays the most crucial role on the pitch.
After eight Serie A matches this season, his average of 101.3 passes per game ranks first in Serie A. Giorgio Chiellini is a distant second, with 81.2 passes per game. His average of 98 was tops last season as well, with teammates Marek Hamsik, Raul Albiol, and Kalidou Koulibaly coming second, third, and fourth, respectively.
While he has Italy on the brink of either the World Cup or an unthinkable elimination, Azzurri manager Gianpiero Ventura may have to wrestle with his potential worst legacy; losing Jorginho to the Brazilian national team.
The defensive-midfielder has made it clear that he wants nothing more than to play for Italy, but to no avail. He continues to be snubbed, and now, it appears Brazil is ready to pounce. National team manager Tite will be on hand for Napoli-Manchester City tonight, specifically to scout Jorginho.
Should the 25-year-old file his one-time national team switch, Ventura may have lost out on the most important player he could have locked down. Italian soccer may suffer for a decade as a result.
Matthew Klimberg