Italy-Sweden 0-0: azzurri fail to qualify for second time in history, player ratings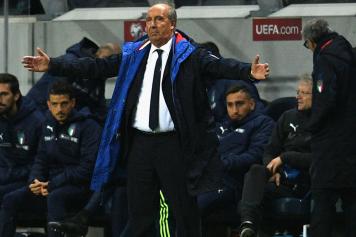 13 November at 23:18
Buffon:
Didn't do one single save during the whole night
​Barzagli 5,5:
Several wrong passes, too many fouls in the second half
​Bonucci 7:
Probably the best game of the season so far, unfortunately is not enough
​Chiellini 6,5:
Average performance, pushes ahead till the end. Yet again, not enough
Jorginho 6,5:
First ever game for Italy national team, one would wonder why Ventura has waited for so long to give him a call-up
​Parolo 6:
Recovers many balls but lacks of quality
​Florenzi 6,5:
Played out of position for over one hour, he creates some troubles when he plays on the wings
​Darmian 5:
Worst player on the pitch, he only gets one cross right
​Candreva 5:
Like Darmian, not one single good cross
Immobile 5:
Has only one big chances but wastes it in the first half
​Gabbidini 5,5:
He tries to attract Sweden's defenders out of their line but fails to create real troubles.
Subs:
El Shaarawhy 5,5: Has one shot on goal but should have played wider
Belotti 5: Not one single shot on goal
Bernardeschi 5: One wrong cross, that's all from him tonight
Ventura 3:
He makes history but the other way around. Shameful result for the azzurri who fail to qualify for the World Cup for the second time in their history. He played Florenzi out of position, started Gabbiadini who had only played 36 minutes under his tenure, Italy dominated the game but everything looked absolutely confused tonight.
​
@lorebetto
Lorenzo Bettoni