Italy-Sweden: tops and flops after the first half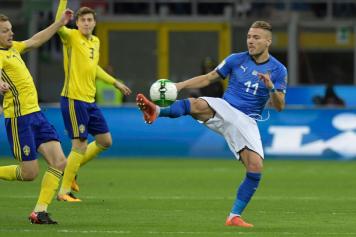 13 November at 21:38
Italy are being held to a 0-0 draw by Sweden at the San Siro but having lost the previous fixture for 1-0 the
azzurri
need a win if they want to qualify for the World Cup.
​These are the tops and flops after the first half at the San Siro.
TOPS:
Jorginho:
First ever appearance with Italy national team. The Napoli star has given quality to Italy midfield creating a couple of very good goal chances. The Brazil born midfielder has only missed a couple of passes but he put down a positive performance overall.
​
Bonucci:
He's playing in his new stadium providing a performance similar to those he used to put down back in his Juventus days. The 30-year-old hasn't made too many long passes and has remained on the pitch despite an injury which seemed to be pretty bad.
​
FLOPS:
Darmian:
The Man Utd defender hasn't delivered one single cross, disappointing performance so far.
​
Barzagli:
Many wrong passes, one yellow card, looks tired. No coincidence He has never played two successive games so far this season.