Justin Kluivert is already lighting up training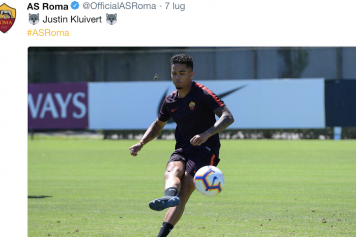 09 July at 15:35
Justin Kluivert is having fun in Rome,
that's for sure.
The young Dutch sensation, who father was a superstar at Barcelona in the 1990s and early 2000s, was signed this summer for €17 million by the Giallorossi.
Met by 400 fans at the airport when he landed in the Italian capital, the 19-year-old is doing superbly in training already.
Everyone has been left stunned by the youngster's skills. In the first session he attended, he curled a beauty of a free kick under the bar.
Giallorossi fans will be hoping that he can crack Serie A, something his father failed to do at Milan, and which another sensational training player (Gerson) has also struggled with.
The Dutchman has already done something to endear him to fans: he will wear Number 34 this season, a tribute to team-mate Abdelhak Nouri, who collapsed in a pre-season game last summer and survived, though with major brain damage.
"It's Appie's number. My prayers and my shirt for you, my friend, my brother, you have taught me so much."
☝️