Juve, Allegri: 'This team can win the Champions League...'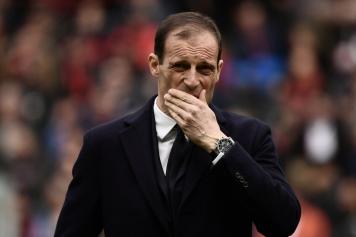 18 May at 14:45
Juventus head coach Massimiliano Allegri announced yesterday that he would be leaving the Turin club after five years of service. Allegri spoke to the press today at his conference with president Andrea Agnelli and the whole team present alongside journalists.
"So you move me (seeing the team in the hall), even if I shed no tears, I already gave them to you yesterday. Then the players ask me the questions. I thank the president for the beautiful words he said, I thank the boys (is moved) ... slowly, calmly, always calmly, we have taken a lot of success, I leave a winning team that has the potential to repeat itself in Italy and play a great Champions League; unfortunately this year there were coincidences that prevented us from playing it all the way.

"​I expressed my opinions about the future and the good of Juventus in my opinion. The company made this decision. But nothing changes, when I arrived I found a super organized company. It was also down to Marotta. We all grew up together, the time has come to leave ourselves in the best way. Agnelli is a great president, Pavel and Fabio are becoming important managers. Tomorrow night we have to celebrate, because there are two things to celebrate : one is the victory of the Scudetto and one the farewell of Andrea Barzagli. It will be a wonderful evening, it has been five extraordinary years.

"In the end you have to reach the goals that the company sets you. We took home the Scudetto and the Supercoppa, but it remains an extraordinary season. Good or bad play depends on the results. Now it doesn't make sense to do technical stuff, but a soccer game is also strategy, those games that make you win or lose the championship are the ones you take home even when you play badly. Nobody likes to lose, then afterwards nobody is satisfied. Playing well and then finishing second is not for me.

"My first experience in Serie A, in Cagliari, zero points in five games and it was said that we played well ... yes, but I had zero points. We played the game in Cardiff, we lost it because Real defended very well and we defended badly. I have not yet understood what it means to 'play well', if someone explains it to me I try to understand and maybe I will succeed. In football there are the categories, who wins, who does not win and who never wins. If you never win, there will be a reason, for God's sake! In the gabion in Livorno I won all the tournaments except one, there will be a reason. Even there, there will be a reason if there are those who always win and those who never win."
For more news, views and features,
visit our homepage.