Juve: Higuain scores brace, secures milestone, regains world-class form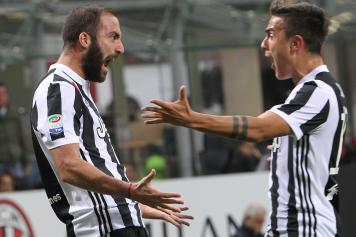 29 October at 12:30
Gonzalo Higuain bagged a brace to bring his tally of career Serie A goals to 101 as Juventus went top of the Italian league with a 2-0 win that plunged AC Milan further into crisis on Saturday.
The 29-year-old opened the scoring in the 23rd minute in front of a capacity crowd of 80,000 at Milan's San Siro. He grabbed his brace in the 63rd minute to lockdown the victory for the six-time reigning champions of Italy.
The victory put Juventus temporarily on top of Serie A with 28 points from 11 games, just ahead of Napoli on goal difference. Napoli can reclaim the top spot at Sassuolo on Sunday as can Inter Milan who are just two points behind the leaders before visiting Verona on Monday.
For Higuain hitting the century mark for goals in Italy -- after achieving the same in Spain -- was revenge for his disallowed tally during the week. "When they disallowed the goal against SPAL, we said it was my destiny to score the 100th at San Siro. Now it's 101, not bad," said the Argentine.
"Milan perhaps started stronger, but we're a great team and when we play like that it's difficult to beat us," said Higuain. "The coach said games never end at San Siro and that is absolutely true. We stayed focused for the full 90 minutes."
Matthew Klimberg