Juve's Dybala on free kicks and Messi 'It's a duel with Pjanic...Messi has his story--I have mine'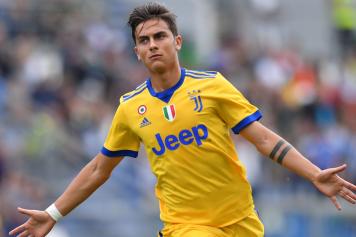 18 September at 22:54
Paulo Dybala, the Juventus number, speaks after his triple scored yesterday against Sassuolo to JTV's microphones. "The goals scored, I like all of them, because they all are worth it. The important thing is to help the team, some are more beautiful, others less."
FREE KICKS - "I train them a lot. It's always a bet with Miralem on the kicks, I'm forced to score to win this challenge. For now, I'm in the lead, but he is dangerous."
PEARL - "The second goal at Sassuolo, in my opinion, has been one of the most beautiful in my career. I do not often have these goals, I had little time and space to decide what to do, so I mistimed the goalkeeper. It was a surprise, I did not expect that goal, even though it happened very quickly."
MATCH BALLS - "Where do I keep the match balls I earn? At home. I like to keep them close on the couch. If my mom hasn't taken them, they are still there (laughs)."
MESSI - "Compared with Messi? I said yesterday, he has his story, and I have mine. We are two different players, Leo has won so much, I hope to the same."
APPLAUSES - "Standing ovation at the Mapei Stadium? It's a pleasure when people appreciate your game. I do my utmost in the respect of my companions and opponents. I try to give the maximum to amuse the people."