Juve star explains Manchester United and Liverpool snub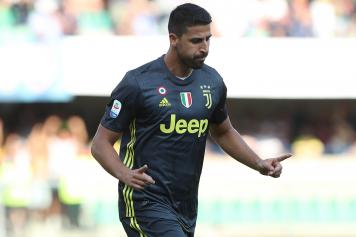 12 September at 16:20
After renewing his contract with the Bianconeri here are the words of Sami Khedira to JTv : " It's an important day and I'm very happy to have signed a new contract with Juventus, an extraordinary day, after Madrid I thought it would not be easy to find a club to have new challenges, then I found Juventus, it's my fourth year and I'm going to stay here for a long time, that's why I renewed my contract, it's enough to go out on the street or to the stadium to understand what it means to wear this special shirt, you have to fight and take it with pride, so I'm very happy that we managed to find a new deal for the next few years so that I can continue to play for Juventus.
"Juve is synonymous with history and if you play in Juventus you must be a champion, you must always give your all and be proud to play here. Because it is the best club in Italy and I hope it will soon be in Europe too.
In the last four years Juve have lost two finals, but getting there means being strong. But to win, you need something special. I hope we will succeed, with Cristiano, even if having him does not mean automatically winning the Champions League, but he is special, he helps you and motivates you to compete at high levels.
Winning the Scudetto and Coppa Italia is always difficult and it is clear that we want to continue to do so, we want to win everything. I know that the players, the club and especially the fans dream of it, we hope to turn the dream into a reality.
For me, the most important thing is to have the confidence of the coach and my teammates. I also try to show the fans that I am proud to play for this club and that I give everything because I want to win every game and show good performances, this is the most important thing.
I am happy to be coached by a great manager like Allegri and to have these great teammates. Allegri is one of the smartest people I've ever met in the football world. He is smart, very intelligent and prepared from a tactical point of view and knows how to communicate with the players. He knows when to work hard, but also when to be relaxed and kind.
Secret? There are only 'hard work'. When you are criticized you must continue to give the best and try to improve yourself every day. Work hard and take care of your private life. I like to win and be a champion, that's why I'm at Juventus. "