Juve: Turin's square dedicated to Heysel victims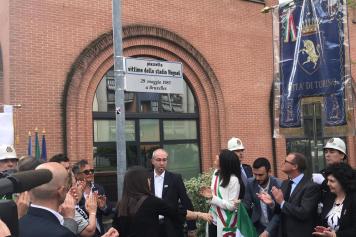 29 May at 13:42
Thirty-three years ago 39 Juventus fans lost their lives during the Champions League final between the Old Lady and Liverpool.
​One hour before the Juventus-Liverpool final was due to kick off, Liverpool supporters charged at Juventus fans and breached a fence that was separating them from a "neutral area". Juventus fans ran back on the terraces and away from the threat into a concrete retaining wall. Fans already standing near the wall were crushed; eventually the wall collapsed.
Today the mayor of Turin Chiara Appendino took part to a ceremony held to dedicate a square of the city to all those who lost their lives at the Stadium Heysel 33 years ago.