Juventus: Allegri admits Dybala and Alex Sandro must improve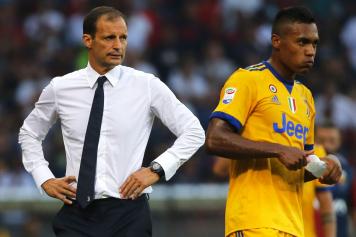 05 November at 17:47
Juventus' struggled more than one would thought as they managed to beat newly promoted side Benevento for 2-1 at the Allianz Stadium.
The relegations candidates were leading 1-0 at the end of the first half but goals of Gonzalo Higuain and Juan Cuadrado helped the Old Lady to seal the three points ( check out the player ratings).
MORE SERIE A NEWS: GENOA SACK JURIC
Max Allegri talked to
Sky Sport
and
Premium Sport
at the end of the game. Here's what he had to say after the final whistle.
"I must congratulate with the lads because this game seemed a cursed one as they missed so many goal chances in the first half. It was not an easy game and it became more complicated after their goal."
MORE JUVE REACTIONS: CUADRADO TALKS AFTER SCORING WINNER
"Alex Sandro is an important player for us, just like his teammates. He made some positive and negative things today. He must remember what he is able to do, he could be more reactive when they scored the first one. Dybala has played 17 games this season and today he had a chance to score. He must improve, especially in terms of physical shape. I replaced him because I needed one more midfielder."