Juventus, Allegri: "Renewal? There's no problem. I will evaluate Dybala, Morata..."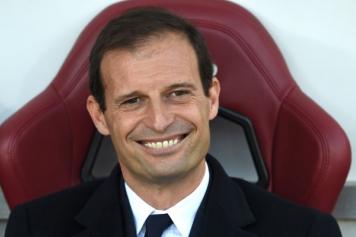 16 April at 14:41
Juventus coach Max Allegri has been speaking at his press-conference ahead of Sunday's clash with Palermo.
First question, will striker Paulo Dybala return to the squad tomorrow, Allegri responded; "He's been training with the group this week and he will either play from the first minute or come on during the 90 minutes. With Zaza suspended he will be important".
Asked whether he had regrets about the clubs elimination from the Champions League, he replied; "We must have no regrets, our aim is to now do well in the competition in the coming years". Looking ahead to Sunday's match against Palermo, Allegri stated that; "It will be a difficult match, they are fighting for Serie A survival. We need to take responsibility, we've won nothing yet,and small errors can cost you dearly. The fans need to get behind us right from the start".
On the final weeks of the season, he explained that; "There are still six games to go, the 22 we have previously won count for nothing if we don't continue our good form. We trained well this week and we approach the run-in one game at a time". On the subject of the future of striker Alvaro Morata, Allegri stated; "I would like to train with the same players next season as this season but there are many factors, this is the transfer market".
Finally, on his own future he declared; "It's not necessary to plan a date for me to sign a new contract and I certainly don't have time this week with three matches to play. There is no problem, we have to meet to plan both on the technical side and economic side.
Steve Mitchell @barafundler