Juventus, Allegri says he wants 'one thing' from Ronaldo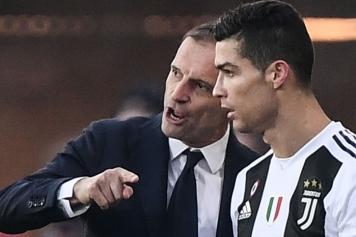 01 January at 13:00
Juventus manager Massimiliano Allegri spoke with Portuguese paper
Record.
The biggest part of the interview was of course focused on Cristiano Ronaldo: "He is not any different from what I imagined", Allegri said.
"I knew he was a great professional with a competitive spirit that has already helped everybody to improve".
"He wants to be the best one every day and that's an important value that helps us all. I am not surprised, I'd rather say that it's great to see him play because he is a different kind of player".
"Ronaldo's biggest quality is that he is always focused, both in game and during trainings. He's always the same habit also when he plays just one ball during games. I only want one thing from him: goals. It's what he knows better, Cristiano is an example for everybody".
"The Serie A title is a natural objective for Juventus, as for the Champions League you have to be lucky. Ronaldo must be a joy for Juventus and for Italian football".