Juventus and Man Utd are hopeful Hazard moves to Real Madrid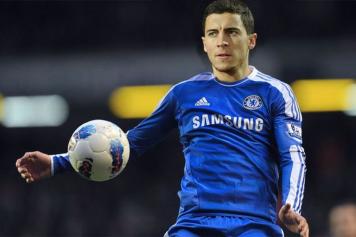 12 January at 18:30
As rumors of Real Madrid's interest in Eden Hazard increase, so to do the anxiety levels of Chelsea's fans and executives. The Belgian has been tipped as the likeliest player to unseat Lionel Messi and Cristiano Ronaldo from their perches atop the Ballon d'Or throne. A move away from Stamford Bridge may doom their plans for prolonged success into the future.
It goes without saying that fans of Los Blancos are excited by the prospect of him patrolling the final third at Santiago Bernabeu. Two other fansbases, directly unrelated to Hazard, are also hopeful that a move to the Spanish capital can be finalized in the near future.
In Paulo Dybala, Juventus possesses one of the most coveted young playmakers across the world. The 20-year-old has been linked to Real Madrid, as well as their rival Barcelona, and Manchester United. If and/or when the Argentine moves away from Torino, he'll do so for an exorbitant fee in the range of, if not surpassing, Philippe Coutinho.
Should Real Madrid decide to splash a significant amount of money on Eden Hazard, they would likely be unable to finance a Dybala move. With Barcelona signing Coutinho, such an eventuality could leave Manchester United as the only suitor for Dybala.
Jose Mourinho would be thrilled to chase Dybala's signature without any real competition. Similarly, without Barcelona and Real Madrid, Juventus would find it easier to justify not selling Dybala, since there wouldn't be a bidding war and United's offer may fall below their assessment of his potential value.