Juventus: Barzagli and Cristiano Ronaldo honoured before kick-off against Atalanta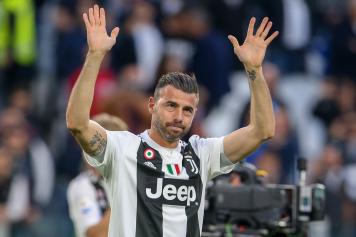 19 May at 20:35
It is a big night for Juventus. Not only is it the last home game for head coach Massimiliano Allegri but it is also Andrea Barzagli's final home game as a player; the Italian defender retiring at the end of the season after a string of injuries this season. Before kick-off against Atalanta tonight, Barzagli was honoured, praised and applauded by the Juventus fans.
Similarly, Cristiano Ronaldo was praised, but for a different reason. The Portuguese forward was named as Serie A MVP of the season and has been presented with his award before the game kicks off against Gian Piero Gasperini's Atalanta.
Juventus will be looking to give a spirited performance for both Allegri and Barzagli tonight, denying Atalanta a clear shot at qualifying for the Champions League next season in the process.
For more news, views and features,
visit our homepage.