Juve, between the UCL obsession & the usual questions going into the summer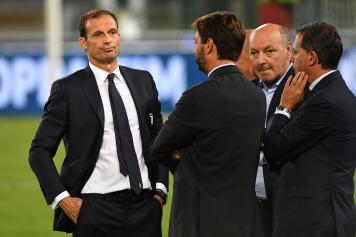 10 April at 12:40
Could you say that there's a downside to winning your league title for six years in a row? I'm sure that if you asked this to a Juventus fan after the club's first match in Serie B following the Calciopoli scandal, they would have laughed and said I'd love to find out- but now that the scenario has actually unfolded, there are a couple of potential answers.
For one winning so often can make each scudetto feel less memorable, and when you put such a long streak in a row together, it almost feels like you are trying to avoid the agony of seeing someone else win it rather than pursuing the joy that comes with succeeding yourself. More importantly, such a dominating presence in your national league makes it so that your fans will naturally start taking it for granted and look to the Champions League as the next logical objective- and after losing two finals in past three years, it has turned into an obsession.
While the question of how much the club should tailor their summer plans based on the Champions League, a competition their directors constantly describe as a crap shoot, is fairly new for Juventus there are some other queries that have become a staple for the bianconeri this time of year- starting with uncertainty at the manager position.
​While Antonio Conte was (probably) the main reason Juventus returned to their winning ways, his constant demands on the transfer market, on top of the one year he had to deal with the match fixing scandal, brought constant uncertainty to the bianconeri's summer plans. Things didn't really change with his replacement Massimiliano Allegri, who became a target for numerous top clubs abroad once he showed the ability to continue Juventus' dominance in Italy while also significantly raising their profile in Europe.
In a recent interview Allegri stated that he'll stay at Juventus as long as he feels the necessary motivations. The club's management rewarded him with a very rich contract extension last year, and in recent years backed him in his disagreements with Bonucci (shipped off to Milan no less) and more recently Paulo Dybala, so it looks like Marotta and Paratici will be very happy to make Allegri into their version of Alex Ferguson. On the bright side for Juventus fans, even those who criticize Allegri, no one expected the former Milan manager to win so much on the day he replaced Conte- if he were to leave Marotta and Paratici have shown the ability to find an adequate replacement.
​While there are some Juventini who would be fine with Allegri leaving as they feel he doesn't get the most out of the team's impressive offensive weapons, within the fan base there's consensus against the club's policy of selling so many star players, if they want to leave. In the past few summers have seen Carlos Tevez, Arturo Vidal, Paul Pogba and Leo Bonucci leave- and with the summer coming you have to wonder who will be next.
While many Juventini hate the policy of "we won't stand in someone's way if they want to go" you could argue that Alex Sandro's performances this season are proof that maybe it isn't so bad. However because of the scarcity of quality left back on the market, there's no doubt that the Brazilian is still an appealing options for top clubs.
Paulo Dybala has been on the radar of top teams even before he arrived at Juventus. Paris St Germain and all the top clubs in the Premier League were after him when he was playing for Palermo, and his performances at Juventus have only increased. Because of the club's track record, for most Juventini it probably feels like a more of a matter of when Dybala will leave as opposed to if- it remains to be seen if the Argentine will at least match Pogba's four seasons in Turin.
​Other than Alex Sandro and Dybala, the other Juventus jewel who has a massive appeal on the transfer is Miralem Pjanic- but considering that the Bosnian midfielder could have easily gone abroad (while he was already in his prime unlike Dybala) when he was at Roma, and even put his money where his mouth was by waiving the part of the exit clause that was due to him, it's safe to say he'll be part of Juventus' midfield for the foreseeable future.
I suspect most Juventus fans are tired of reading about their best players being on shopping lists for other European super clubs, and would prefer the club take a page out of the Paris St Germain and Bayern Munich- ironically two other clubs who dominate their national leagues. Once you sign with either of those clubs, you essentially waive your right to leave unless the club agrees to it- we've seen the possibilities of Lewandowski and Verratti leaving being shut down immediately.
Certainly the questions on the manager position and which big name player will leave in the summer are now becoming constants for Juventus' fans, but at least the good news is the club has shown the ability to navigate through them because of how well they have replace those who go- but with the increase in the Champions League obsession from the fans and the club's revenues it maybe time to change the questions even though the answers have been good so far.
@DavidAmoyal