Juventus, Chelsea and Milan – where next for Gonzalo Higuain?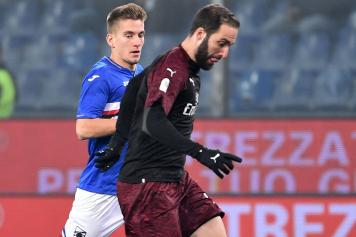 13 January at 17:40
It has been all-but confirmed by AC Milan head coach Gennaro Gattuso that Argentine forward Gonzalo Higuain, who is on-loan with an option to buy from Juventus, has asked to leave the Milanese side. Higuain has scored just six goals in 15 Serie A appearances this season and it appears as though the Argentine striker wishes to cut his losses with Milan and move somewhere else – where he can get better service and fill a game-plan that suits him.
There are three main possible destinations for Higuain come the end of the January transfer window: remaining at AC Milan, returning to Juventus or moving to a completely different country to join former manager Maurizio Sarri (who worked with Higuain at Napoli) at Chelsea. Join us at
CalcioMercato.com
as we analyse the potential destinations and see what would perhaps work best for Higuain and where he could likely end up.
Firstly, there is the chance that Higuain remains at AC Milan – for the club to then exercise their option to buy in the summer after hopefully what would be a strong few months of recovery for the forward. Gennaro Gattuso, as per reports from the
BBC
, is said to be clinging on to Higuain and is really against the club parting ways with who is arguably one of their strongest players. Despite a run of poor form for both Milan as a club and for Higuain as a player, Gattuso still sees a lot of good within the forward and would therefore be keen on keeping him on the books. Given that the loan deal has cost AC Milan €18m, as per what is recorded by
Transfermarkt.com
, the Milan leadership would surely be concerned about not being able to redeem Higuain permanently, given that they have already covered part of the cost in the loan fee to get around the restrictions of financial fair play – which Milan must adhere to given the constant watchful eye of UEFA over all of their business now.
The next option for Higuain is to actually return to Juventus – yet this would only likely happen if, for whatever reason, Juve were to part ways with an existing forward in either Mario Mandzukic or Paulo Dybala. Higuain was shifted off to Milan for a reason – with the Turin based club needing to make up money by selling players after the €110m purchase of Cristiano Ronaldo from Real Madrid in July. Higuain left on loan due to Juve's demands of Milan given the swap between Mattia Caldara and Leonardo Bonucci – the deal was weighted in Juve's favour to begin with and, although Milan appeared to grow in strength as a result of it, they have failed to benefit thus far. Regardless, Higuain is already a proven goalscorer with Juventus and would likely fit much better into Allegri's side – given both the tactics and the quality of the rest of the team, in comparison to the somewhat lacklustre and injury prone Milan team.
Finally, it is no secret that Maurizio Sarri is a big fan of the Argentine and wishes to bring him to Chelsea. The latest reports suggest that Chelsea have entered talks with Juventus about signing Higuain; especially since it became known of the striker's desire to leave Milan. Chelsea are currently in the process of trying to offload Alvaro Morata; and there is also the constant looming threat that Real Madrid could come knocking once again for Eden Hazard. Chelsea are, therefore, looking to bolster their attack and, given the familiarity between Sarri and Higuain, West London could be the ideal place for him.
Sam Wilson (@snhw_)