Juventus-Chievo Preview: team news, predicted line-ups, Opta Facts & Stats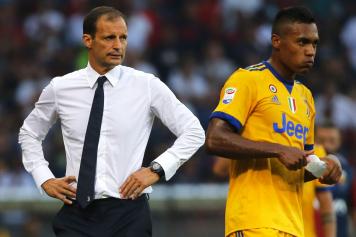 09 September at 10:00
The third week of the Serie A calendar brings Chievo Verona to the Allianz Stadium to take on Max Allegri and Juventus. The Bianconeri return a number of players from the international break on limited rest and a wealth of travels, which will likely force a few changes in the formation and lineup for the Scudetto holders. It will likely be a debut in the starting lineup for both newly arrived Matuidi and Douglas Costa, with Allegri opting to use a 4-3-3 rather than the 4-2-3-1.
Rolando Maran and Chievo enter Turin with a loss and a win thus recorded so far, and will look to continue on the relatively strong showing they enjoyed last matchday against Lazio. The Flying Donkeys did well to equalize after Immobile's opener, then gave up a goal in the dying minutes. Considering their opening round success over Udinese and strength in attack, Maran's men will have something to prove against Juventus Saturday. The talented attacking trio of Birsa, Pucciarelli, and Inglese will be hoping to catch a rusty group of Bianconeri defenders off guard, picking and choosing their movements to expose the Juve backline, especially when the home side commit multiple players into the attack.
Allegri on the other hand, will have a mind split half way between the international break and the upcoming opening round Champions League match against Barcelona. Some players are arriving fatigued after the break and will need to be rested, while others will need to be incorporated into the new formation amongst some new faces. Juventus are pipped to use Sturaro, Matuidi, and Pjanic in a three man midfield, a formation which is relatively new for the Bianconeri. Douglas Costa and Mandzukic are expected to occupy the wide attacking positions, with Higuain as the lone striker. At the back, there will likely be more changes, with Benatia and Rugani likely to pair as the central defenders, and Szczesny replacing Buffon in goal.
Chievo will be no easy task for champions Juventus, who will looking to guarantee three points albeit with a new lineup and formation. Depth of quality was the particular reason for strengthening the squad during the summer, and injuries to Marchisio and Khedira have perhaps already show how important Matuidi can become in the middle of the park for the Old Lady. On the other hand, Chiellini's injury and Bonucci's exit could exhibit how prepared players like Rugani and Benatia are to be handed full responsibility in the absence of top notch starters. There is also space for Max Allegri to use Douglas Costa this weekend in hopes he can learn to mesh with his new teammates, as Cuadrado's suspension in the upcoming Barcelona match nearly guarantees him a place in the starting eleven. For both the Brazilian and Matuidi, the match will offer a perfect opportunity to shine in front of their new fans.
Probable Lineups:
JUVENTUS (4-3-3):
Szczesny; De Sciglio, Benatia, Rugani, Alex Sandro; Sturaro, Pjanic, Matuidi; Douglas Costa, Higuain, Mandzukic
CHIEVO (4-3-1-2):
Sorrentino; Cacciatore, Dainelli, Gamberini, Gobbi; Castro, Radovanovic, Hetemaj; Birsa; Pucciarelli, Inglese
@DaviDBaleno
David Baleno