Juventus-Inter: the last matches and stats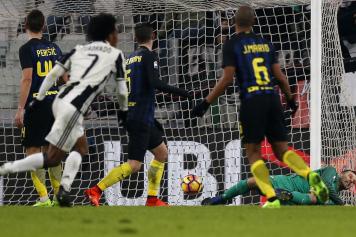 07 December at 13:15
Juventus-Inter is a great classic of Italian football. The Derby of Italy arrived at its 171nd episode. The records are in favour of Juventus. Inter is the team against which the Bianconeri have won more matches in Serie A (81): 43 draws and 46 wins for Inter.

Juventus collected great results especially in Turin: 58 successes against Inter's 11 ones. 16 are the draws. Inter's last victory against Juventus was on September 18, 2016, when they won 2-1 at San Siro on the 4th matchday. The last Nerazzurri win at Turin dates back to 3 November 2012 (1-3, Milito's double and Palacio's goal). In the last three Serie A challenges between the two teams at the Stadium, only three goals were scored, all by Allegri's team.

The last time Inter scored a goal was on January 2015. It is not the first time that Juve play on Friday and, indeed, a match was also against Inter: the Bianconeri have lost in this circumstance only one of the 18 Serie A games played on Friday (10W, 7D), on the only occasion in which they faced Inter: 2-0 in April 2010, at San Siro.
Mirko Laurenti