Juventus news: Mandzukic a doubt for Atletico Madrid clash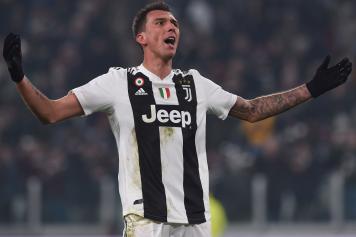 12 January at 16:10
Juventus coach Massimiliano Allegri has confirmed the injury to the flexors occurred to Mario Mandzukic.
The Croatian striker stopped during the Thursday's training session and the injury immediately appeared as a serious
one. Juventus' first official statement spoke of a problem with the flexors whose importance has to be evaluated.
However, the sensations were not positive from the beginning. It's a serious injury, especially for a player with the size of Mandzukic.
He will need time to come back to his perfect fitness condition. Juventus are worried that it will take more than a month to see him again on the pitch at the top. It would be important for the Bianconeri to have Mandzukic available for the first match of the Champions League knockout stage against Atletico Madrid, on February 20.
For the moment, that game is to be considered at risk for Mandzukic. The Croatian striker will do everything to be on the pitch when Juventus will restart their path towards the Champions League.