Juventus-Tottenham - A look back at how the day unfolded ahead of the big game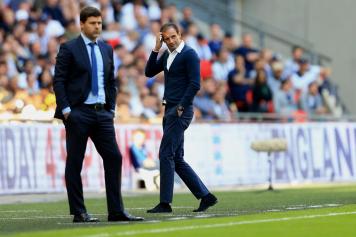 12 February at 22:10
Juventus will be facing Tottenham in the opener of the last-16 stage of the Champions League tomorrow.
The Premier League giants will be travelling to Turin today,
whilst Juventus will have a training session at around 3 pm Italy time.
Our reporter in Turin Lorenzo Bettoni will be
following the whole day from Vinovo
and the Allianz Stadium where Tottenham will train later today.
Mauricio Pochettino will talk to media from the
Allianz Stadium alongside a player of Tottenham.
Max Allegri will talk to media shortly after his
Tottenham counterpart.
Giorgio Chiellini will also attend the press conference.
​Toby Alderweireld
is out of action for Tottenham whilst Juventus will have to do without the likes of Paulo Dybala, Juan Cuadrado, Andrea Barzagli and Blaise Matuidi.
​Juventus star Federico Bernardeschi talked to
La Domenica Sportiva
on Sunday night to share his thoughts on the upcoming game: "We are ready to face Tottenham, we are fit and determined.
Allegri is a top manager, he is very good in managing all the big players he has.
Dybala? We are waiting for him, concurrence is very important in a top club", Bernardeschi said.
​Watch this space today to have all the latest news from Turin.
21:30 Why
Miralem Pjanic
could have been lining up against Juventus tomorrow night
19:45
Massimo Allegri press-conference
19:30
Giorgio Chiellini press-conference
19:00 Watch Spurs players get put through their paces at the
Allianz Stadium
18:15
Mauricio Pochettino press-conference
18:00
Harry Kane press-conference
17:00 Argentine striker
Paulo Dybala trained with the rest of the Juventus squad this afternoon
but is unlikely to play any part in tomorrows match.
15:45 Former Juventus midfielder
Liam Brady cannot predict who will win
, as he sees very little difference between the sides.
14:45 Juventus have been linked with a potential
summer move for Spurs striker Harry Kane
.
14:15 Spurs manager Mauricio
Pochettino hopes Paulo Dybala is fit enough to face his side tomorrow night
.
13:40 Spurs defender Toby
Alderweireld will miss tomorrow night's match
due to injury.
Paulo #Dybala back to #Juve training but not likely to be part of #Juve squad tomorrow#JuveTOT #Championsleague
via @LoreBetto pic.twitter.com/SdoFTTciie

— CalcioMercato (En) (@CmdotCom_En) February 12, 2018
#Juventus training begins.#JuveTOT #ChampionsLeague
via @LoreBetto pic.twitter.com/sWDWbaUivQ

— CalcioMercato (En) (@CmdotCom_En) February 12, 2018