Juventus, why is Dani Alves still struggling?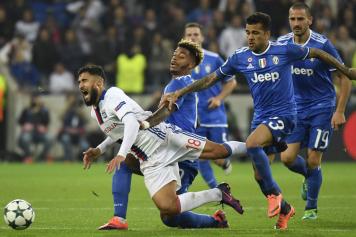 19 October at 12:56
The day after their 1-0 win over Lyon, many Juventus fans are asking themselves whether signing
Dani Alves
was a good idea. Actually, the main question is another one:
is the Brazilian the motivated and experienced defender everyone expected?
The former Barça man's performance at the Parc OL was disappointing despite a good start.
Dani Alves had a good impact creating a couple of goal chances through some surgical crosses from the right.
​Dani Alves is clearly not the only responsible for Juventus' poor performance in Lyon yesterday night. Lack of movements of strikers and midfielders did also playe a big part in Juventus' unconvincing game. The 33-year-old, however,
struggled when Lyon strikers pushed forward
, so much so, a mistake in the second half could have cost Juventus the goal, if
it wasn't for a miracle made by Gianluigi Buffon on Fekir
.
There is, however, an explanation for Dani Alves' poor form: first of all the system.
It must not be easy to adapt to a 3-5-2 system at 33, after a career spent as right back in a four-man defence.
What about the quality of midfield? With respect talking,
Mario Lemina started for Juventus yesterday night, Dani Alves had been playing with the likes of Xavi and Iniesta for almost ten years.
​Dani Alves has partially yet to adapt to life at Juventus, but the Old Lady wants him to do it as quickly as possible because the
bianconeri
need his experience and quality to improve their style and try to emerge as serious competitors for the Champions League