Kaka announces possible retirement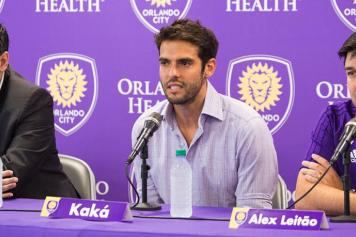 12 October at 09:30
On Wednesday, former Ballon d'Or winner Kaka held a press conference to announce that he would not be returning to Orlando City SC next season. Though he did not announce any specific plans for 2018, Sunday's upcoming match may be the last of a remarkable career that has spanned 17 years.
Kaka burst on to the international scene as part of the blistering 2002 World Cup winning Brazilian team when he was only 20 years old. After captaining Brazil to second-place in the 2003 Gold Cup, Kaka went on to join AC Milan, where he developed the legendary status he enjoys to this day.
In two stints with the Rossoneri, Kaka led his club to a Serie A crown, Champions League trophy, among others. It's also where he took possession of the 2007 Ballon d'Or. In fact, he is the only person not named Messi or Ronaldo to have won the award and still be playing actively.
He made a high profile move to Real Madrid in 2009 where he helped them to a La Liga, Copa del Rey, and Supercopa trophies over four seasons. After returning to Milan for a single season, and São Paulo for one after that, he made the move to expansion club Orlando for their inaugural season in 2015.
In America he became one of the most marketable stars in league history. Unfortunately injuries have caught up to him as he's only been able to make 14 appearances with the club. It's hard to imagine his next move will be anything more than a swan song, if not outright retirement.
However, his remarkable career was nearly snuffed out before it had a chance to flourish. Kaka suffered a pool injury as an 18-year-old which doctors feared would leave him paralyzed. Fortunately for Kaka, and soccer fans across the world, he was able to make a full recovery, something he credits God for. As a result, he's been extremely charitable with his immense career earnings.
If Sunday's match is, indeed, his final one, the world will have had 17 years to appreciate his artistry on the pitch, and warmth off it.
Matthew Klimberg