Keita doesn't think about Inter permanent move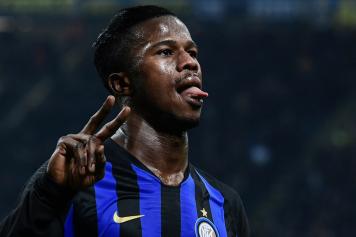 09 January at 14:00
Inter winger Keità Blade spoke to
Sky Sport about his season and the future of his club.
"The year ended well. It was important to win against Empoli and we did it. Now we have to start well and always do better. I needed to find the net when you start scoring the other goals come automatically. I have already said that I only had to be patient and wait for the first goal. Now I hope to always do better".
​
On Spalletti's words about his performance after the match against Empoli: "They are nice words, but everyone knows me and I think I'm like he described me.
Here, they welcomed me very well, we are a big family. Even in the field, I'm fine, I always try to give my contribution.
What I do is helping the team with goals and assists".
On the knowledge of languages:
"It is important to understand the teammates and the staff. Players today have the opportunity to get to know different cultures and so you have to learn".
On Inter targets:
"We have a good team to face the competitions. We must be confident and try to win them all".
On his permanent move at Inter:
"I do not think about this every day. I think about working and doing better every day, about doing my job. Time will tell what will happen".
On the Inter of the future:
"I think they are working very well from every point of view. They are growing fast, year after year will always be better. Inter are a very huge club".
On racism:
"I see it difficult, there are always ignorant people. Not everyone has the same education, if they do not learn during the childhood, they do not learn at 30-40 year. Everyone is responsible".