Keita is a star: between contract talks and Inter...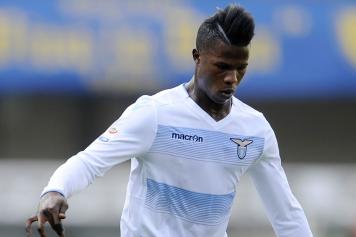 08 November at 12:30
Five years ago, Keita Baldé arrived in Rome as a young phenom. Like Icardi, he was in the Barcelona system but they let him go because of some personality issues. His agent Nunzio Marchione then offered him to Lazio and the rest is history. He arrived in Rome not too long after that and he took a picture with Hernanes right after a Lazio-Juventus game (which finished 0-1 thanks to a goal from Pepe). Hernanes told him :
" Come and join us, a young player of your quality is what we need!".
FROM BRANCA TO LAZIO- He started with the Lazio youth squad and he then joined the senior side not too long after. Then Inter director Marco Branca liked him a lot but Lazio did not want to let him go as they saw his potential. He has now become a superb player for Lazio and one of the most promising youngsters in Italy.
RENEWAL- His current contract expires in 2018. Last summer Keita wasn't satisfied with Lazio's transfer plans but what about now? Lotito will try to renew his contract but it is still very far away and negotiations won't be easy. Monaco have strong interest in him and Juventus have always liked him too. Lazio will give it their all to keep him but will it be enough?
Article by Fabrizio Romano, adapted and translated by Jean-Luca Mascaro (@CalcioNews89)