Kessié and Donnarumma explain why AC Milan should not be disappointed by Lazio draw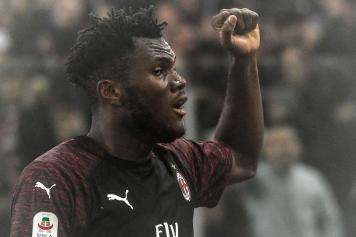 26 November at 10:45
Franck Kessiè played a very good game against Lazio but that wasn't enough for the Rossoneri to seal the three points at the Olimpico yesterday night.
​Despite a huge number of injured players, AC Milan managed to draw against Lazio, one of their main contenders for a Champions League spot this season.
Kessié commented the game on Instagram revealing his satisfaction despite Lazio's late draw. "It wasn't easy today but we played a great match on a difficult pitch", Kessié wrote.
These words are pretty much the same used by his teammate Gianluigi Donnarumma. The goalkeeper made great saves and if AC Milan has not taken more than one goal is also thanks to him. On his social media, he said: "Proud of our match. Positive result".
AC Milan and Lazio are now divided by just one point in the table with Simone Inzaghi's side that sits fourth.
AC Milan faces Parma at the San Siro next weekend.
Mirko Laurenti