Kessie hails Higuain and Gattuso and insists AC Milan 'want the Champions League'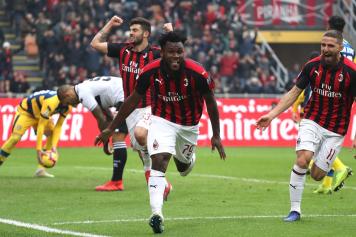 07 January at 13:20
AC Milan midfielder
Franck Kessie spoke to
Calcio2000
about the current situation at AC Milan, his coach Gennaro Gattuso as well as teammate Gonzalo Higuain.
"Gattuso? He is a great coach. In general, when you play, you always like the coach. But he is an honest guy. When it's time to work, you work. With him, you have to be concentrated. If you do not give the maximum, he screams at you. Once the work is done, however, he leaves you free to do whatever you want," he said.
"Higuain? He is a great champion, he is very strong and a professional. We believe in him so much, we know he can take us to the top. The San Siro? It gives me great emotions.
"When you know that 70/80 thousand people are watching you, it makes an impression. It has an incredible story, you feel it when you play games. At the start of the season, we set our objective to qualify for the Champions League and we have to do everything we can to make it.
"The Supercup? Juventus are a great team but we want to win the trophy. One thing is certain, it must not end as in the final of the Coppa Italia last May," Kessie concluded.