Klopp: I chose Liverpool because they are a family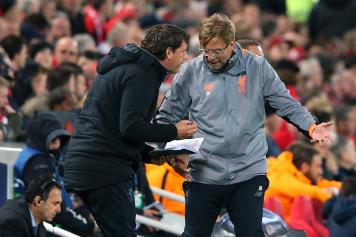 24 May at 14:10
Jurgen Klopp has revealed why he chose to move to Liverpool in 2015, claiming that the Anfield side was "still a family."
The German is preparing for this weekend's Champions League final rendez-vous with Real Madrid, and was speaking to Robbie Fowler in an interview with the Mirror, explaining why he rejected Manchester United, who were also interested.
"It is a football club. A football club. I had talks with other clubs and they didn't sound like a football club," Klopp said.
The German led the Merseysiders to an 8th-place finish in relief of Brendan Rodgers in his first season, before hitting fourth spot in two consecutive campaigns, as well as a Europa League final loss to Sevilla.
"I love the history. I really am a football romantic. I knew I probably can help. They maybe really need me, in this time. I know what I'm good at," Klopp also told Fowler.
The German has instituted his own Gegenpress style, and has seen Mo Salah score 44 times this season as his side has knocked out Roma, Manchester City and Basel on their way to the final.
"When they told me about the problems they had I thought, 'OK, yeah, I am probably the really right manager for that club'.
"A little thing. Liverpool is a world class brand, big, big, big, but in Melwood, you know it Robbie, it is still a family, nothing else, and you can go in and feel that.
"I have to develop and improve, sure, but I don't want to go into the office in the morning to wear a tie. That is not me."