Latest: Conte, Zidane lined up if EDF fails in September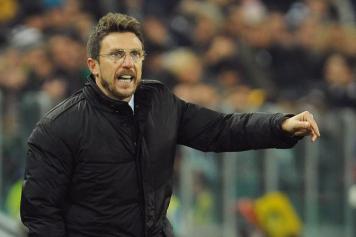 03 September at 15:05
Eusebio Di Francesco's permanence in Rome is being questioned by the club, we can report through Francesco Balzani.
The Giallorossi stumbled to a 2-1 loss to Milan at the weekend, and while the former Sassuolo man isn't exactly on the hot seat, there are doubts, and September will be key in either dispelling them or confirming them.
The Roma Coach favours a slick style, but owner James Pallotta has doubts about how his second-year manager has handled the club's signings. As we reported recently, the Lupa has already spent €42 million on Patrik Schick, yet she hasn't been able to find a place for him in the starting lineup.
The same goes for summer signings Javier Pastore or Patrick Kluivert. Roma have been forced to off big names in recent years and need to keep replacing them with signings. So far, the likes of Gerson, Maxime Gonalons and Gregoire Defrel have failed.
Obviously Di Francesco didn't share those acquisitions… leading many to wonder what role he really has in that particular sphere.
Chievo, Bologna, Frosinone and Lazio will be decisive. Otherwise, big names are being mentioned already, with Antonio Conte being called by the fans, but Vincenzo Montella is another, along with Zidane and Wenger.
Montella had nearly rejoined in 2012, but could relaunch his career with his old club.