Latest news on Donnarumma's future at AC Milan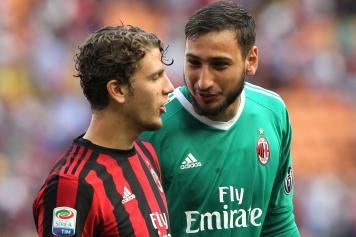 14 November at 12:10
Italy have been eliminated from the World Cup ending the era of Gigi Buffon as the
azzurri's
no.1 keeper. AC Milan star Gigio Donnarumma is expected to pick up the baton left by the legendary Juventus goalkeeper. It was Buffon himself who told
Rai
yesterday that Donnarumma would become his successor in the national team.
Buffon will never say it but he agreed with Donnarumma when he decided to remain at AC Milan in the summer, signing a new contract.
Donnarumma had received many offers hut he eventually decided to remain at the club signing a new € 7 million-a-year deal.
Paris-Saint-Germain had offered him a € 13 million-a-year deal including much more bonuses and add-ons, including three villas and a limousine , Donnarumma snubbed a move to Paris but signed a new deal with release clause.
No secret his agent Mino Raiola is not on good terms with representatives of AC Milan and that he is not 100% convinced by the project of the
rossoneri
hierarchy. The player's agent is open to any kind of option in the future, Psg are still interested and Real Madrid are also keeping a close eye on Donnarumma even though the
Merengues
could sign Athletic Bilbao's Kepa in the January window. AC Milan want Donnarumma to stay as much time as possible, how long will the love story between Donnarumma and the
rossoneri
last?
Translated by Lorenzo Bettoni
Fabrizio Romano