Latest: PSG chase €30m Benfica midfielder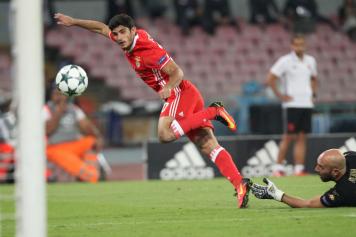 13 January at 18:49
It looks like Manchester United aren't the only team hoping to go shopping from Benfica's talented squad.
According to RMC (via Le10Sport), PSG are interested in Goncalo Guedes, a young 20-year-old midfielder who has already scored two Liga goals this season, and added two more in Champions League play.
Coach Unai Emery et Sporting Director Patrick Kluivert like Guedes for flexibility: he can play anywhere in midfield, either in an attacking role or down the wings. The Parisians have struggled at those positions, with only Lucas Moura truly convincing.
Angel Di Maria is having a down season, meanwhile, whilst Julian Draxler is a very recent arrival.
RMC claim that it'll take €30m to nab Guedes.
Fans of the Red Devils know how hard it is to shop in Lisbon, with Viktor Lindelof and Nelson Semedo set to cost above €40m each.
There are other problems: the youngster is cup-tied, and has hardly been a slam dunk in Lisbon: despite also boasting two assists in league play, many fans want more from the 20-year-old, who is not seen as having lived up to his potential yet.
Could this scare PSG off?