Latest: Ronaldo tried to recruit Bayern star in controversial CL clash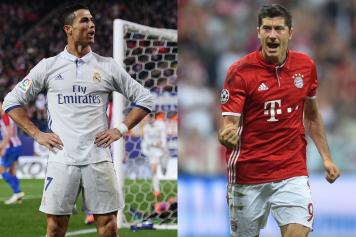 21 April at 13:40
Cristiano Ronaldo and Sergio Ramos have been busy cozying up to Robert Lewandowski in order to persuade him to join Real Madrid,
the latest reports indicate.
Despite Bayern Munich reacting with fury to their 6-3 aggregate loss to the Merengues in Champions League action in midweek, it looks like Ronaldo had other things on his mind, except for scoring a hat-trick, that is.
AS confirm that Ronaldo and captain Ramos had a chat with Lewandowski around the tie, despite the Polish star recently signing a new deal that will keep him at Bayern until 2021.
This would be rather ironic, seeing as Ronaldo himself scored two offside goals, which helped Real eventually defeat their Bavarian opponents 4-2 over the second leg, after it had gone into extra time.
Though Bayern players may be bitter at Real, AS suggest that Lewandowski may be angry at his own club, which has not played a Champions League final since he joined in 2014.