Man Utd and Real speculation affected Lazio star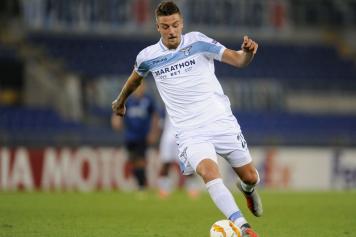 11 October at 10:35
Lazio have had a tough time in some matches so far this season, including matches in which the Biancocelesti struggled to defeat against Frankfurt, Roma, Napoli and Juventus. This proves that, as was the case last season, Lazio are still struggling against the big sides and need to pick up more of these 'direct' victories to help their push for continental qualification.
Speaking to
La Repubblica
, Lazio sporting director Igli Tare commented on the performances of Luis Alberto and Sergej Milinkovic-Savic (who was a wanted target of Real Madrid, Manchester United, Chelsea, Milan, Barcelona, PSG and more over the summer); as well as discussing several other topics in a lengthy interview:
"
For Milinkovic it's mainly a matter of physical condition: he arrived late because of the World Cup and so he lacks the basic athletic training. Essential thing for a "heavy" like him. It may have been affected by that "stay or go" that lasted all summer: in the end it remained and now only has to get in shape.
"Luis Alberto? For him it is a matter of head: he needs to feel untouchable, but in an ambitious club like Lazio it is not possible to make mistakes in a row and remain the owner. He must regain the place, as a man, and return to make a difference. He is a player from Real Madrid, his quality has already proven it: now he has to make the leap in quality. He needs to improve his physical condition and to work on self-esteem.
"
The model is Juve: who plays, even if the previous game was on the bench, gives everything. Always. For us, the priority remains the championship, with the Champions League as a goal: it will be tough, this year the Serie A is more balanced, there are just 4 points between the third and twelfth. Lazio is missing one, with Napoli the draw would have been fairer.
"[Correa] is a dream player. With a little more luck, it was already 3-4 goals. We need patience and trust, but it will explode. He and Immobile are our counter-footmen, complementary to Luis Alberto and Caicedo. They can all play in pairs with each other. Caicedo? I was sure the second year would have made it as you know. He's introverted, which does not help him, he needed time. He will never score Ciro's goals, but his work is important for the team.
"The experts are hard working, Wallace, Bastos and Caceres. Martin's mistake in the derby was unforgivable: he had plenty of time to return with his favourite foot. But when they say that the defence is our weak point, I'm not here: last year we had the best attack in the championship, normal that something behind you concede. Badelj? He is a captain, a leader: on the bench he suffers. But I had talked to him, he knew he did not have a secure place and accepted the challenge. Like Berisha, another who likes to load the team on his shoulders: both will be important. If you still point on Lukaku? Yes, this will be part of the group. I'm sorry for Durmisi's injury, he was fit, he did not want it. Criticism to Marusic? First the back, then the flexor: if you can not train well, in the game you pay. It is not yet one hundred percent, it will come soon."
For more news, views and features,
visit our homepage.