Leicester, Ranieri: "Close to the title? I will believe only when its mathematically certain. Mahrez? He's a genius, he's our shining light"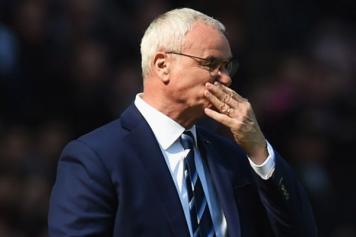 27 April at 19:03
Leicester City coach Claudio Ranieri has been speaking once again as his team edges closer to the Premier League title. He explained that; "When the Tottenham game finished, I felt a little closer, but only a little. We are close, everyone says we've won it but I say no. I believe only when it is mathematically certain. We must fight to the end".

Asked if he could believe the season his team has had he replied; "I never thought we could compete for the title. I kept telling the players now we are safe, now we are in the Europa League, now we are in the Champions League. Now we need to make the dream become a reality and win the league. We have demonstrated that a little club can become a giant".

Asked to give his opinion on Riyad Mahrez becoming the PFA player of the year, Ranieri stated that; "I'm proud of him, he is a genius, he is our shining light. Everyday he's asking me how he can improve, but not just him, all my players are fantastic professionals".


Steve Mitchell @barafundler