Lionel Messi: "Argentina cannot go to World Cup without Gonzalo Higuain"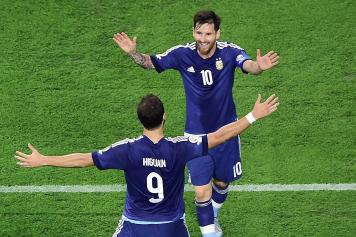 06 December at 21:30
Lionel Messi showed support to Juventus striker Gonzalo Higuain in an interview with Tyc Sports regarding the former Real Madrid striker's exclusion from the Argentinian national team recently.
Messi stated that despite not being called up these past few matches Higuain "has to be there because he is key. He is one of the best strikers in the world and he has shown that every week at Juventus. I think this time away from the national side has done him good and judging by the times we spoke, it has made him see things differently."
Messi acknowledged that the criticism has hurt Higuain stating that "he is suffering for the national team, but he must be in it,The critics make him suffer, we have spoken about it many times."
In conclusion Messi was asked about the future of Javier Mascherano stating that "I understand that he wants to go somewhere else to play more, he is in his final year of his contract with Barcelona."
Nima Tavallaey Roodsari (@NimaTavRood)