Chelsea, Juventus stars among those nominated for Ballon d'Or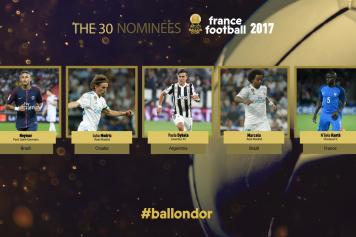 09 October at 18:45
Paris Saint-Germain and Brazil forward Neymar was one of the first five names that the award-winning French Football organizers revealed from the shortlist, along with Real Madrid duo Luka Modric and Marcelo , Juventus forward Paulo Dybala and Chelsea midfielder N'Golo Kante.
Neymar , who left Barcelona to join PSG this summer in a world record move, came third in the voting in 2015 and was fifth in the last year.
The remaining 25 names on the shortlist will be revealed in stages until 7:30 pm EDT on Monday.
The first five nominees for the 2017 Ballon d'Or France Football: Neymar , Luka Modrić , Paulo Dybala , Marcelo , N ' Golo Kanté #ballondor ballondor pic.twitter.com/QnyakD9bhwQnyakD9bhw

- France Football (@francefootball) October 9, 2017francefootball) October
1 - Dybala (Juventus)
2 - Marcelo (Real Madrid)
3 - Neymar (PSG)
4 - Modric (Real Madrid)
5 - Kantè (Chelsea)
6 - Mertens (Napoli)
7 - Oblak (Atletico Madrid)
8 - Suarez (Barcellona)
9 - Coutinho (Liverpool)
10 - Sergio Ramos (Real Madrid)
11 - De Bruyne (Manchester City)
12 - Lewandowski (Bayern Monaco)
13 - Kane (Tottenham)
14 - De Gea (Manchester United)
15 - Dzeko (Roma)
16 - Griezmann (Atletico Madrid)
17 - Kroos (Real Madrid)
18 - Buffon (Juventus)
19 - Mané (Liverpool)
20 - Falcao (Monaco)
21- Cavani (PSG)
22- Messi (Barcellona)
23- Aubameyang (Borussia Dortmund)
24- Hummels (Bayern Monaco)
25- Benzema (Real Madrid)
26 - Cristiano Ronaldo (Real Madrid)
27- Bonucci (Milan)
28- Isco (Real Madrid)
29 - Mbappé (Monaco)
30- Hazard (Chelsea)