LIVE: Inter prepare Chinese investment, Moratti: 'never planned to take over'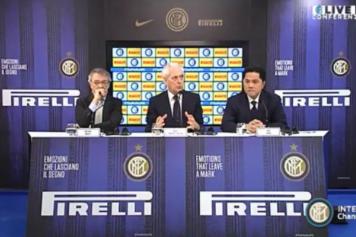 22 April at 15:29
1804 GMT: The Suning representatives will now go to the villa of Massimo Moratti to meet with the former president.

1745 GMT: Meeting comes to a close between the two parties.

1539 GMT: The delegation from Suning arrive at Appiano Gentile for a meeting with Inter executives including president Erick Thohir, administrator Michael Bollingbroke and vice-president Javier Zannetti.

1315 GMT: Former Inter owner and minority shareholder (he owns 30% of the club) Massimo Moratti spoke to the media, ruling out an eventual return of both he and close associate Marco Tronchetti Provera. "We haven't planned anything of the sort, also because the current majority owner (Thohir) plans to bring in new investors.

Moratti had previously been rumoured to be planning a takeover, something his wife was unable to deny when interviewed during a recent Inter game.

0900 GMT: Today is a big day for Inter Milan. Owner Erick Thohir is set to meet both the players and Roberto Mancini, who is himself set to speak to the media at 1400 in preparation for the Nerazzurri's Saturday night Serie A tussle with Udinese.

More importantly, Thohir is set to meet a delegation of representatives (about ten or so of them) from Suning at the Pineta – Inter's training ground – to further discuss the eventual of 20% of Inter's share. The Chinese group is set to pick up 14% of the Indonesian's share, and 6% of Moratti's for about €50-60 million.