Italy-Sweden 0-0: azzurri fail World Cup qualification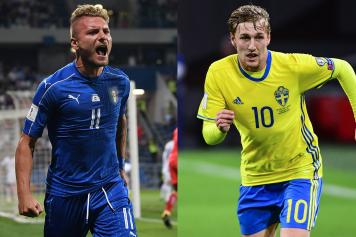 13 November at 22:20
Italy's just 90 minutes away from arguably the biggest sporting embarrassment in their rich history. By losing 1-0 in Sweden, the rule is simple, Italy must score goals or watch the 2018 World Cup from their homes.
Quite understandably Italy boss
Giampiero Ventura has been highly criticized for Italy's 1-0 defeat in Sweden on Friday
and only a win will help him to save his job.
The Italian tactician talked to assembled media yesterday showing that confidence that most azzurri fans do not have.
"Tomorrow I will make a few changes because we played only 48 hours ago. We expected to be in this situation when I arrived here, this was the most likely scenario. We knew we'd have been behind Spain but among the four best runner-ups."
​Surely, Ventura is not as motivational as Antonio Conte used to be for the
azzurri
but, despite that, Italy still have a chance to qualify for the world cup.
Follow our live updates from the San Siro here and check out the gallery to watch pictures and videos from the San Siro where our Matthew Klinberg is attending the game.
LINEUPS:

Italy
:Buffon; Barzagli, Bonucci, Chiellini; Candreva, Florenzi, Jorginho, Parolo, Darmian; Immobile, Gabbiadini.
​Sweden
: Olsen; Lusting, Lindelof, Granqvist, Augustinsson; Claesson, Johansson, Larsson, Forsberg; Toivonen, Berg.