Recap: Here was Ronaldo's first day at Juve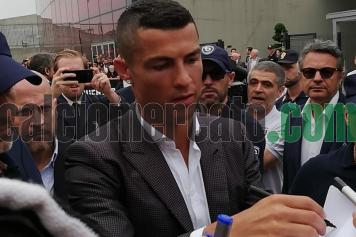 16 July at 22:40
As Cristiano Ronaldo was unveiled by Juventus earlier today,
CalcioMercato.com
kept you well covered. Click on the links bellow to view all of the action of the day.
Ronaldo arrived in Turin yesterday with his family and entourage, ahead of Monday's presentation and press-conference (
READ MORE
)
Juventus fans waiting for Ronaldo to arrive trolled Leonardo Bonucci and chanted "Where is Bonucci", find the video in the gallery. (
READ MORE)
Ronaldo has arrived for his Juventus medical and he was saluted by bianconeri fans. Look out in our gallery for a video (
READ MORE
)
Ronaldo's medical has now started, ahead of his move to the bianconeri. Have a look at the gallery for a video. (READ MORE)
15:30 -
Ronaldo has left the stadium, to head towards Juventus HQ and to meet his Juve teammates, ahead of the press conference at 18:30
16:00 -
Cristiano Ronaldo has arrived at Juventus HQ after his medical tests, where he will meet his teammates and other players. Take a look at the gallery for more pictures from throughout the day and the latest snaps of Ronaldo at Juve HQ.
17:30 -
Ronaldo has officially met with his new Juventus teammates, even posing with a picture with head coach Allegri. To watch the footage, and see other photos from Ronaldo's first official day at Juve, check our gallery
​
19:00
- Ronaldo held his first Juve press conference,
click here to find out more
.
19:30
- During Ronaldo's press-conference, he also talked about Messi. He said that "Messi isn't a rival as we will see who will finish on top when all is said and done".
Click here for more
.
21:15
- Fabio Paratici also spoke to the press,
here is what he said
.
22:00
- Finally, here is what Jorge Mendes
had to say on the Ronaldo-Juve move
.
Click on our gallery section to see some of the best pics\videos of the day.
​