Lotito and De Laurentiis want to play Lazio-Napoli in China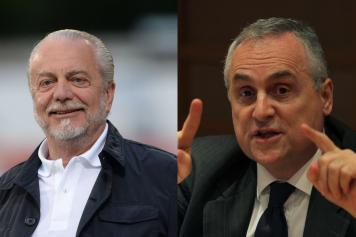 25 March at 10:10
The new agreement between Italy and China involves football as well. A 22-point memorandum was signed last week by China Media Group General director Shen Haixiong and
Gravina, Micciché, De Siervo, Bogarelli, Lotito and De Laurentiis
. According to
Repubblica,
the Presidents of Lazio and Napoli jokingly said: "We are going to play the next Napoli-Lazio in China". The plan of both clubs, however, seems to be more concrete and the words spoken by Lotito and ADL are not simply a joke.
Serie A chairman Miccichè, however, doesn't agree with playing Serie A games abroad: "That's still far away, Coppa Italia or Supercoppa can be different. Meantime, China Suning has already acquired tv rights for Serie A in China. According to
Repubblica,
Inter owners would be more than happy to play one game of the Nerazzurri in Nanjing.